Vaccines Aren't Just for Kids!
August 5, 2019
We need vaccines throughout our lives to help protect against serious disease.
A vaccine is a product that stimulates a person's immune system to produce immunity to a specific disease.
CDC Recommended Adult Immunization Schedule: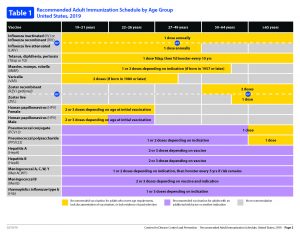 Your insurance plan covers the cost of immunizations. Ask a nurse or provider which immunizations you may need.
Adult Immunization Schedule by Vaccine and Age Group | CDC. (2019, February 5). Retrieved July 07, 2019, from https://www.cdc.gov/vaccines/schedules/hcp/imz/adult.html?CDC_AA_refVal=https://www.cdc.gov/vaccines/schedules/easy-to-read/adult.html#table-age