The Cook Clinic Welcomes New Registered Dietitian
January 15, 2019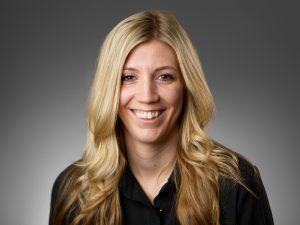 Kayla King is our registered dietitian, earning both her bachelor's and master's degrees in Nutrition and Dietetics from Ball State University. Following graduation, Kayla completed her dietetic internship at Schneck Medical Center in Seymour, Indiana and Marion County Health Department in Indianapolis. Prior to life at Cook, Kayla worked as the clinical dietitian at St. Vincent Dunn Hospital. She also has a background in community nutrition and individual outpatient counseling. In her free time Kayla can often be found hiking, camping, and spending time outdoors.
Kayla helps oversee the bariatric program and provides counseling on a variety of nutrition related topics including diabetes, cardiovascular health, and weight management. She is located at the Cook Clinic and is available for appointments on Mondays and Thursdays 9:30 am – 6:00 pm and Tuesdays, Wednesdays, and Fridays 8:30 am – 5:00 pm.
To schedule an appointment with Kayla, please call the Clinic at 812.330.9944.