October is Breast Cancer Awareness Month
October 2, 2019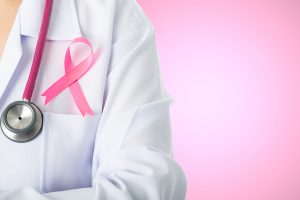 Am I at risk?

Everyone is at risk for breast cancer, even men! The two most important risk factors are being female and getting older. Other factors that may increase risk include:
• Obesity
• Breast tissue density
• Menstrual history
• Heavy alcohol intake
• Sedentary Lifestyle
• Diet (increase in sugar and carbohydrates)
Who gets breast cancer?

About 1 in 8 US women (approx. 12%) will develop invasive breast cancer.
The average age of women diagnosed is 62.
About 85% of breast cancers occur in women who have no family history of breast cancers.
This is the most common cancer diagnosed in women between ages 55-64.
Women with family history may be at higher risk; for example, women whose mother, sister or daughter have or have had breast cancer may have double the risk.
Women who have inherited genetic mutations in BRCA 1 or BRCA 2 are at higher risk.
Male breast cancer accounts for approximately 1% of all breast cancer diagnoses.
What are symptoms of breast cancer?

A lump, mass and/or (pain is usually NOT a symptom) change in the feel or position of the breast are among the most common symptoms.
Other symptoms include:
• Swelling
• Redness or inflammation
• Changes in nipple
• Nipple discharge
• Itchy or irritated breast
• Changes in color
• Peeling or flaky skin
How do I get screened for Breast Cancer?

Mammograms:
Different professional societies and organizations vary on when to begin getting mammograms and how often. Talk with your provider about your risk and recommendations for screening.
Breast Self-Awareness:
It is no longer recommended that women perform self-breast exams, but that women should be familiar with both appearance and feel of their breasts. They should report any changes promptly to their provider.