Nutrition Tips During COVID-19
April 15, 2020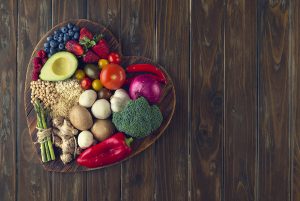 Minimize grocery store trips by planning ahead
• Visualize breakfast, lunch, and dinner meals for the next week or longer. Consider items already on hand and then make a list of foods that need to be purchased. Having a plan in place will keep you intentional with your purchases by reducing impulse buys and helping you focus on ingredients needed to create balanced meals for the entire week.
Consider nutrient density
• While access to certain food items may be limited at times, aim to choose nutrient dense foods when possible. A balanced plate is one that emphasizes fruits, vegetables, whole grains, and lean protein.
o Vegetables: Choose sturdy fresh vegetables when available and utilize before frozen or canned options to avoid waste. Many frozen vegetables are nearly as nutritious as fresh; opt for plain varieties that don't contain added salt and/or fat. Choose canned vegetables labeled "no salt added" or "low sodium" when able.
o Fruits: When shopping for fresh fruit, consider its maturity and when you plan on consuming it. Buying a few slightly green or firm options will allow you to have fresh fruit throughout the week. Keep in mind some fruit spoils quicker than others. Apples, oranges, and grapes will stay fresher longer than items such as bananas, berries, and lettuce. Choose no sugar added frozen, canned, or dried fruit.
o Grains: Purchase whole grain breads, tortillas, English muffins, and pitas. Freeze any extras for future use. Oats, brown rice, whole wheat or legume based pasta, and quinoa are all healthy whole grain staples. For extra convenience opt for plain instant oatmeal and quick cooking or frozen rice/grains.
o Protein: Choose fresh or frozen lean meats, canned or pouched tuna/salmon, eggs, and low-fat cheese and yogurt. Consider non-meat sources of protein which may be more accessible, less expensive, and yield additional health benefits. Try items such as dry or low-sodium canned beans/legumes, nuts/nut butter, tofu and tempeh.
o Kitchen staples: Don't forget items such as low-sodium broths, sauces, and condiments. Include fresh or dried herbs and spices, heart healthy oils/nonstick cooking spray, and low-fat dressings/dips.
Prepare for the unexpected
• Be prepared, but try to remain flexible. Have a back-up plan if an ingredient you need is unavailable.
Get creative in the kitchen
• Use this extra time at home as an opportunity to explore new recipes and improve your kitchen skills. Make it a family activity by getting everyone involved!
Limit purchase of less nutritious food
• Keep in mind that most frozen dinners are high in sodium, fat, and calories, while food such as chips, sodas, cookies and ice cream are high in empty calories and increase the costs of your grocery bill.
Practice mindfulness around eating
• Having greater access to the kitchen can sometimes increase mindless eating. If you're working from home, try following the same meal and snack schedule you would on site. Ask yourself if you're actually hungry, or if you're eating out of thirst, boredom, or procrastination. Stay hydrated and keep healthy options accessible for when you are hungry. Try the following combinations for a healthy snack between meals:
o Apple + peanut butter
o Raw veggies + hummus
o Greek yogurt + berries
o Banana + walnuts
o Grapes + string cheese
o Whole wheat toast + avocado
For additional information on food storage and safety, creating a grocery list, cooking with kids, and more, go to https://www.eatright.org/coronavirus