March is Colorectal Cancer Awareness Month
March 6, 2019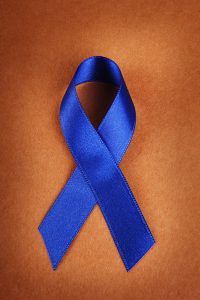 Colorectal cancer is the 4th most commonly occurring cancer and the 2nd leading cause of cancer deaths in the U.S.
Colorectal cancer is a very preventable and very curable disease if caught early!
Because there are often no symptoms when it is first developing, colorectal cancer can only be caught early through regular screenings.
The following is a list of common signs and symptoms of colon cancer. Seek medical attention if you are experiencing:
-Changes in bowel habits, such as frequent diarrhea or constipation
-Rectal bleeding or blood in stool (usually dark red)
-Persistent cramping or abdominal pain
-Weakness or fatigue
-Unintended weight loss
Doctors recommend most people being having colorectal cancer screenings at age 50, however, individuals with a higher risk (strong family history or certain medical conditions) may need to start screening at a younger age.
Several options are available for colorectal screenings, but the most important thing is to get screened.
A colonoscopy (visual exam) is the standard recommended method for screening and is usually repeated every 10 years through the age of 75.
You can take steps to reduce your risk of colorectal cancer by following these prevention tips:
-Avoid foods high in fat
-Eat plenty of fruits, vegetables, and other high fiber foods
-Exercise regularly
-Maintain a normal body weight
-Don't smoke
-Drink alcohol only in moderation