Let's Talk About Blood Sugar Monitoring!
November 30, 2021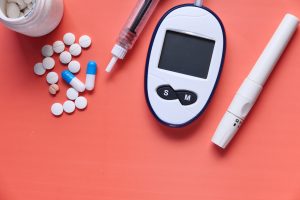 Blood sugar (blood glucose) monitoring is the primary tool you must have to help empower your control of diabetes.
Why are blood sugar readings so important? If your glucose is too low, our ability to think clearly and function may become impaired. If it is too high and stays high, it can cause damage or complications to the body over the course of many years! This is especially true for our blood vessels, hearts, eyes and kidneys.
Blood sugar readings for some can trigger strong feelings: anger, frustration, confusion and feeling 'down' about ourselves, are just a few. It is easy to use the numbers to judge ourselves. Diabetes is a lifelong marathon, not a sprint! Remind yourself that tracking your glucose level is a simple way to know how well your 'diabetic care plan' is working. The care plan is multifaceted: overall health, weight, family history, food choices as well as activity level. YOU have control over some things, others you do not (ie: family hx). It is a partnership between you and your provider (having a designated primary care provider gives an edge up as a partner who knows you and your health history, making it easier to look at 'the big picture').
So, what are the recommendations? The ADA recommends an A1c measurement (blood sample) every 3-6 months that gives an overall average of your blood sugar over the course of the previous months. Above 6.5 designates diabetes. Seven (7) is a goal for most diabetics. However, an A1c does not take into consideration the wide variation of highs and lows, and actual 'time in range' or 'target'. According to the ADA, for both Type 1 and Type 2 diabetes, time in range (70-180) is a goal for 70% of your day, or about 17 hours out of a 24-hour day. Time spent in range is much less likely to develop certain diabetic complications and keep you much healthier to enjoy life! Believe it or not, two people with the same A1c, can actually have very different glucose readings.
That's where the CGM, or continuous glucose monitor, gives you an edge! Not only are they real time numbers, but they also predict if your blood sugar pattern is stable, elevating or dropping. This helps give you the power to take action! PLUS, it greatly reduces the number of those dreaded finger sticks!
The Libre CGM system is available through the clinic, ordered by your provider. The sensor is about the size of a quarter, which is worn on the back of the upper arm, changing every two weeks. A reader is used to scan and provides 8 hours of data, so scanning at least every 8 hours, provides a complete 24-hour history! Scanning first thing in the morning, at bedtime, as well as before a meal and about 2 hours after eating will help track and predict blood sugar patterns.
We are excited to work with you so that you are empowered to take back control! We are here to PARTNER with you!
-Sarah True