Lemon Water 101
June 30, 2021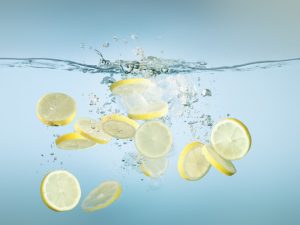 There's no denying that lemon water is a delicious alternative when the taste of plain water isn't cutting it. Though in recent years it seems the increasing popularity behind this bright, citrusy drink mostly stems from its laundry list of alleged health claims. Is lemon water that much better for us? Read on to learn about the benefits and which claims fail to live up to the hype.
Source of vitamin C
The juice from one lemon yields around 19mg of the 75-90mg we need each day. Vitamin C is important for supporting immunity, battling infection, wound healing, collagen production and improves iron absorption.
May aid digestion
The acidic quality of lemons may help digestion by supplementing our stomach acid in the breakdown of food. This aspect may be even more beneficial later in life, as stomach acid naturally tends to decline as we age.
May support weight loss efforts
While there is no evidence that lemon itself increases metabolism, staying hydrated may increase awareness of true hunger and satiety cues. Having a glass of water before meals may lead to less calories eaten. Swapping out a sugar sweetened, calorie containing beverage with lemon water would be another great way to reduce calories and support overall weight loss/maintenance goals.
Acts as kidney stone prevention
Lemon juice is a great source of citric acid, a compound that binds with urinary calcium and helps to prevent kidney stone formation and growth. While a few fruits contain citric acid, lemon and lime contain the highest concentrations. Utilizing these fruits might be a good, easy preventative practice for those at risk.
Myths
Lemon water causes weight loss
While lemons do contain pectin, a soluble fiber which is thought to increase satiety, the juice only contains trace amounts. Other common misconceptions is that lemon juice increases metabolism and works to dissolve fat in the body, but there is no evidence that suggests lemon water is any more beneficial for weight loss when compared to plain water.
Lemon water alkalizes the body
What a person eats or drinks does not affect the acidity of their body or cells. Eating a diet high in alkaline food can be beneficial, as these include fruits and vegetables, but the health benefits are not associated with changes in body pH.
Lemon water fights cancer
This myth is fueled by the alkaline diet theory and the premise that cancer cells cannot survive in an alkaline environment. The American Institute for Cancer Research state this claim is false and is not backed by science.
Lemon water cleanses and detoxes
Water is important to help our bodies rid waste, but the addition of lemon is unlikely to provide any additional detox properties. In most cases our organs are perfectly capable of handling any cleansing or detox needed naturally.
Takeaway
Perhaps one of the strongest benefits of lemon water is that it may help you drink more water! Staying hydrated supports the overall health and functioning of our bodies. Remember that you'll likely need additional fluids during the summer months. If squeezing some lemon into your water makes that easier and more enjoyable, drink up!
–Kayla King, RD