Food Safety
July 20, 2020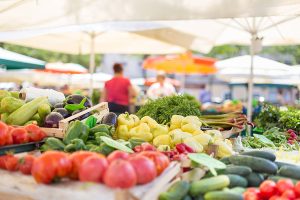 Whether you're dining out and plan to take leftovers home or cooking from scratch in your own kitchen, practicing proper food safety is important to avoid bacteria causing food-borne illness. Use the following tips to keep food safe.
Preparation
• Always wash hands for 20 seconds with soap and warm water before handling food.
• Keep ready to eat foods, fruits, and vegetables separate from raw meat, fish, and poultry.
• Avoid cross contamination by washing or sanitizing cutting boards and utensils between uses.
Cooking
• You can't see, smell, or taste bacteria that causes food poisoning, but a food thermometer can indicate when your food has reached a safe internal temperate. Use the reference below to ensure your food is reaching safe, bacteria destroying temperatures:
– 160 °F (71.1 °C) for ground meats and egg dishes
– 145 °F (62.8 °C) for fish/shellfish; beef, veal, pork, and lamb (steak, chop, and roast cuts)
– 165 °F (73.9 °C) for all poultry, casseroles, and reheating leftovers
• Clean your food thermometer with soap and hot water before and after each use.
Storage
• Check to ensure you are maintaining adequate temperatures of both your refrigerator (40 °F or below) and freezer (0 °F or below).
• Store fruits, vegetables, and ready to eat foods above raw meats.
• Cook or freeze fresh poultry, fish, and ground meats within 2 days of purchase and beef or pork within 3-5 days.
• Canned foods are safe indefinably as long as they are not exposed to extreme temperatures. Discard cans that are dented, rusted, or swollen.
• Always refrigerate perishable foods within 2 hours – 1 hour when temperatures are above 90 °F.
Leftovers/Reheating
• Discard any food/leftovers left at room temperature for longer than 2 hours (1 hour if temperature is 90 °F or above).
• If reserving large portions of food, store in shallow containers before placing in refrigerator or freezer for more rapid cooling.
• Use cooked leftovers within 4 days.
• Reheat all leftovers to an internal temperature of 165 °F (73.9 °C).