Flu Season
October 25, 2018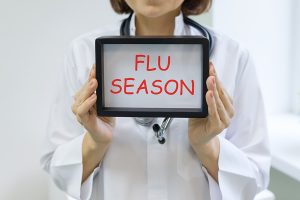 The first and best thing you can do this flu season for you and your family is to get your flu shot.
This helps protect from the flu or potential complications.
The most vulnerable people are the elderly, pregnant women, children and those who have long term health problems.
This season, we will be administering the Standard Flu Shot.
For people age 65 or older, a High Dose Flu Shot is also available. Both are given in the muscle with a needle.
You should get your flu shot before the flu virus begins to spread, ideally in October.
It will take about 2 weeks after you get your shot for the antibodies to develop. It is still beneficial for you if you get it later in the flu season.
A flu vaccine does not guarantee you won't get the flu. But if you do, you may not get as sick as someone who does not get the vaccine.
Possible side effects of the flu shot are redness, swelling, or soreness at the site of the injection. This should subside and get better in a couple of days if you experience it at all.
You should talk to your primary care provider before getting a flu shot if you have ever had life-threatening allergies, allergic reaction from flu shots in the past, Guillain-Barre Syndrome or if you're not feeling well at the time of vaccination.