Eat Smart for Your Heart
February 1, 2019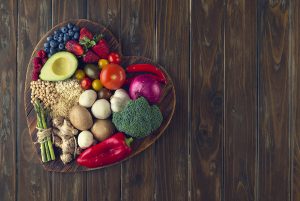 Eat Smart for your Heart
February is American Heart Month, a time designated to raise awareness around our nation's leading cause of death. While some risk factors are uncontrollable, there are many prevention steps you can take to reduce your risk. A healthy diet and lifestyle are some of your best weapons to fight cardiovascular disease.  Follow the tips below to eat smart for your heart!
Avoid unhealthy fats, include healthy fats

Unsaturated fat should make up most of your fat intake. Sources of unsaturated fat are found in fatty fish, vegetable oils, and nuts and seeds. Limit saturated fats which primarily come from animal sources (red meat, butter, etc.) and instead, pick leaner protein option such as fish, chicken without the skin, or a plant-based alternative. Avoid trans fats altogether which is most often in processed snack food and can be identified by the wording "partially hydrogenated oil" in the ingredient list.

Stick to lean proteins

Beans are a great meat alternative that pack a healthy dose of fiber and can help reduce your LDL or "bad" cholesterol. Utilize a variety of beans/legumes as a main entrée, side dish, or add to soups and salads. Fatty fish, such as salmon, trout, and tuna contain heart healthy omega-3 which are associated with improved triglycerides. Limit red meat to lean cuts and smaller portions.

Choose healthy carbs

Carbohydrates often get a bad rap but remember that not all carbs are created equal. Avoid refined carbohydrates that are found in foods such as soda and sweets and opt to include high fiber whole grains (such as oatmeal or whole wheat bread), fruits, and vegetables, which will aid cholesterol values.

Eat a wide variety of foods – especially from plants

A heart-smart diet tends to be a varied one. These standout foods are associated with improved heart health and are often under consumed: dark leafy green vegetables, nuts (especially walnuts), and soy.

Limit sodium

Keep your total intake to 2300mg per day. The best way to limit excess sodium in your diet is by avoiding highly processed foods (canned foods, frozen meals, or fast food) and the salt shaker (just 1 teaspoon of salt contains 2300mg of sodium).

Get plenty of exercise

Physical activity helps raise your HDL or "good" cholesterol. The American Heart Association recommends adults get at least 150 minutes per week of moderate-intensity aerobic activity. It's okay to start small and work your way toward the recommended amount as you get stronger.
Check out some heart healthy recipes below.