Eat Good Food to Improve Your Mood
June 7, 2018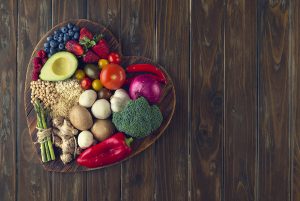 Eating a healthy balanced diet will not only help you physically but mentally as well.
If we truly "are what we eat" then fueling our body with nutritious food will improve our mood and help us think more clearly as well as decreasing cravings for junk food. Even though we tend to think of comfort foods as things like ice cream, chocolate, and potato chips, these foods will only make you feel worse, especially if your mood is already down. Instead try turning to food that is packed with nutrients for comfort such as fruits, vegetables, nuts, and seeds.
Try these comfort food swap outs to improve your mood
Instead of ice cream which is loaded with calories and fat, reach for an all-natural fruit bar, frozen grapes or a frozen banana
Instead of potato chips or tortilla chips which will not fill you up at all, crunch some celery, carrots, or cucumbers with your favorite dip or salsa
Instead of a morning pastry or doughnut which will only make you feel sluggish all day, eat a bowl of oatmeal topped with fruit, this will give you energy, fiber, and antioxidants, and will keep you going all morning
Instead of a large bagel which can pack hundreds of empty calories as well as empty carbs, try a slice of whole grain toast with natural peanut butter and berries giving you good complex carbs and protein
Instead of packaged peanut butter or cheese crackers which are full of sodium and unhealthy ingredients try some multigrain flatbread spread with a little cream cheese or natural peanut butter, or try apple slices with cheddar or natural peanut butter
Instead of gummies or chewy candy, try chewing on some dried apricots or raisins to curb your craving for sweets
Instead of drinking a can of pop full of sugar or artificial sweeteners, quench your thirst and your fizzy drink craving with sparkling water, add a squeeze of lemon, lime, or orange
When you deprive yourself of healthy food and feed it junk your body gets angry with you and that can cause irritability, anxiety, and moodiness. Furthermore, you will feel physically sluggish thus contributing to your low mood. Ditch the junk and fuel up with "real food" and you will feel your mood improve in no time.