Diabetes Care Schedule
November 11, 2021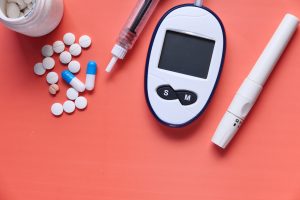 Have you been diagnosed with diabetes? Are you feeling overwhelmed with the amount of information or changes you have been asked to make? Are you unsure which steps to take? Fortunately, the CDC has recommendations for a comprehensive schedule to help you succeed in becoming and staying organized with your diabetes care!
Daily:
Blood sugar checks: Check your blood sugar up to several times a day (discuss with your provider how often). Keep a record of your numbers to share with your provider during your appointments.
Foot Check: Let your doctor know if you have any changes to the skin or nails. (This could include cuts, redness, swelling, sores, blisters, etc.) If you are having trouble seeing all of your feet, use a mirror or ask for help from a family member.
Diabetes Medications: Take these as directed. Most medications are taken daily, but some are taken weekly. If you have questions about how to take your medication, please ask your pharmacist.
Physical activity: It is recommended to get 150 minutes a week of moderate activity. This would include walking or riding a bike.
Healthy Eating: Eating healthy foods that give you the nutrition you need will help keep your blood sugar in your target range.
Every 3 to 6 Months:
A1C test: This is recommended every 3 months if you have recently started new treatment, or if you're having trouble meeting your blood sugar goals. Once your treatment and blood sugar goals are being met, this test will be moved to every 6 months
Doctor appointment: Similarly, if you're having trouble meeting your blood sugar goals, your doctor will want to see you every 3 months. Also, other treatment goals (blood pressure, weight, etc.) will also be assessed. Medications and any other treatment plan will be reviewed. Make sure to bring up anything that you are struggling with or questions you may have in these appointments. Like with the A1C test, once your goals are being met, your appointments will be moved to every 6 months.
Dental Exam: Your teeth and gums should be cleaned every 6 months. Make sure your dentist knows that you have diabetes.
Every Year:
Flu shot
Blood work – this will include cholesterol and kidney tests
Dilated eye exam: this happens at least once a year. You may require this more often if you are having diabetes-related eye problems.
Hearing check
Complete foot check: This may also be done more often if you have had any foot problems.
Just Once:
Pneumonia shot: If you're younger than 65, get one. (You'll need two more doses when you're 65 or older.)
Hepatitis B series: If you're under 60, you should get this series if you haven't had it before. If you are over 60, ask your provider if it's something you should get.
As Needed:
Any new symptoms or health problems: make sure to call your provider immediately if you notice new health problems or if your existing issues are getting worse.
-Sarah Planalp-Lantis