Diabetes and Your Eating Habits
November 30, 2021
Eating well is another key component to controlling blood sugar and managing your diabetes. Maintaining a healthy diet can also support weight loss and manage heart disease risk factors such as high blood pressure and elevated cholesterol. While there isn't necessarily a one-size-fits-all diet, some general principles to consider incorporating include eating more fiber rich foods, fresh fruits and vegetables, and lean proteins while limiting highly processed foods and sugar-sweetened drinks.
Choosing the right foods in the right amounts is also important. One easy way to manage portions and ensure a balanced diet is to follow the plate guidelines below, based on a 9" plate. No counting, calculating, weighing, or measuring. All you need is a plate!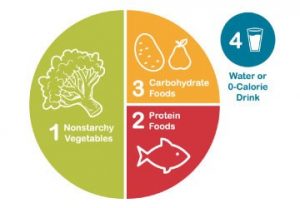 Aim for half of your plate to consist of a variety of non-starchy vegetables. These foods are high in nutrients and low in calories.
Fill one quarter of your plate with a lean protein source. Avoid high fat, processed options.
Keep carbohydrates and starches limited to the remaining quarter of your plate. This food group is most associated with raising blood sugar, so be extra mindful here. Stick to nutrient dense whole grain varieties as often as possible.
Choose water and other sugar free beverages
The goal of any diabetic meal plan is to achieve and maintain good blood sugar control while balancing the enjoyment of eating. Remember that this could be accomplished in various ways. Need additional support? Contact your health care team for assistance in developing an individualized eating approach that works for you.
-Kayla King